Case Study
100TB Case Study
How outcome-driven customer research and jobs-to-be-done discovery changed the market opportunity and delivered rapid revenue growth in the enterprise space.
Introduction
Leveraging Outcome-Driven JTBD Research To Deliver Rapid Revenue Growth
100TB is an infrastructure service provider with a difference. It delivers high-performance infrastructure services with market-leading bandwidth throughput capabilities from five continents and 29 data centre locations.
After implementing outcome-driven customer research to understand customers' jobs-to-be-done, 100TB entered a two-year period of rapid revenue growth. It landed some of the biggest companies in its target audience as customers, and went on to a successful acquisition.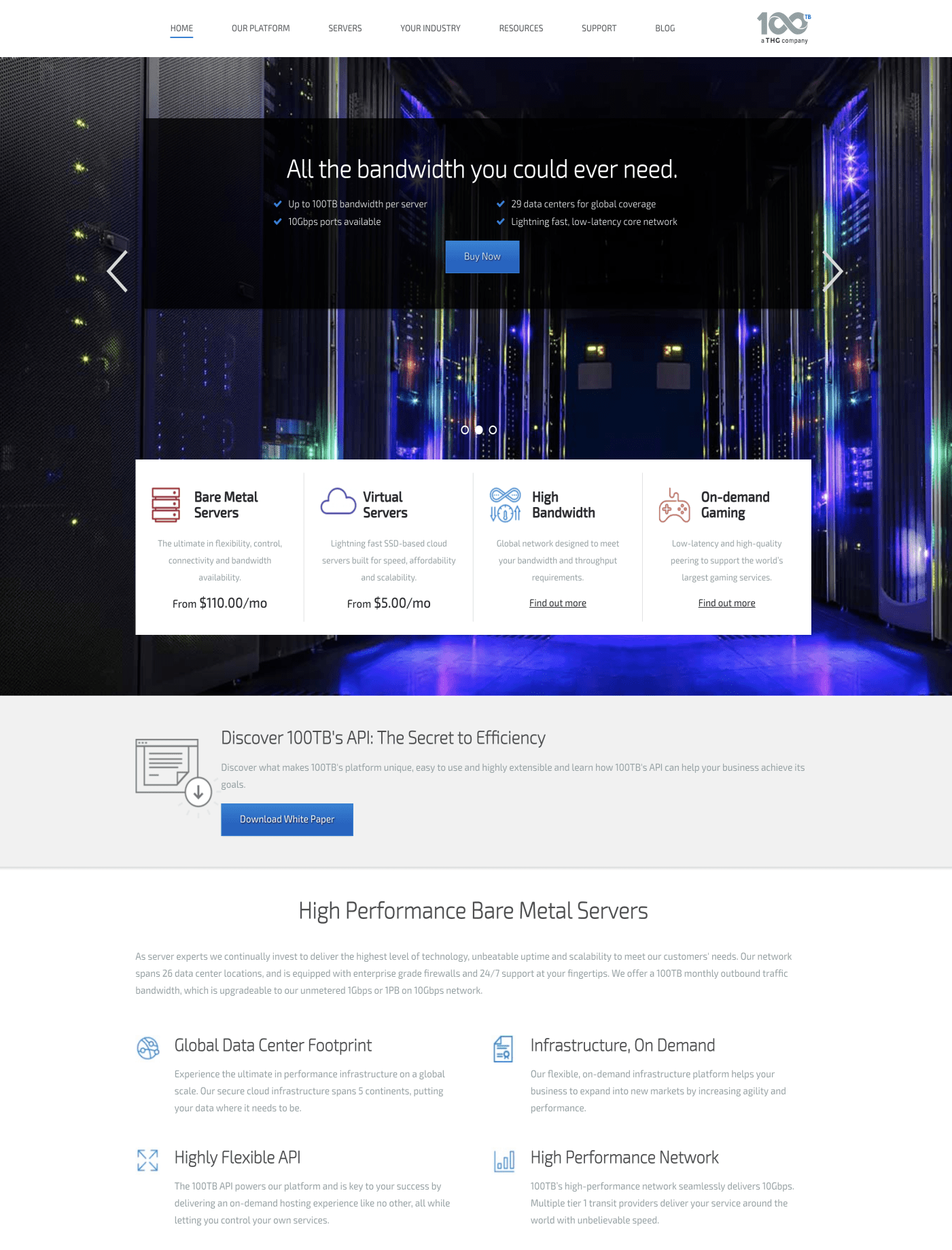 Details
Repositioning Against Unmet Needs To Unlock Growth
Challenge
100TB had successfully entered the dedicated server market but was struggling to find a core market focus. We were tasked with taking an end-to-end view of the company's go-to-market strategy.
The company had a number of fast-growing customers, but was facing some resourcing challenges across both sales and technical support.
Thus, we needed to find a clear focal point for the business so that it could go-to-market more effectively with a targeted and unique value proposition.
Solution
We deployed our outcome-driven framework to understand the jobs current customers were trying to get done. We categorised this research into a number of use cases.
After conducting outcome-driven segmentation, we discovered two adjacent market opportunities with clear value propositions that we could tackle concurrently: video streaming and multiplayer gaming.
It was then a matter of repositioning the brand, aligning the offer model to customer requirements, and building a highly-targeted go-to-market. After initial traction, we built out product capabilities that better served important, unmet customer needs.
Testimonial
"The approach transformed the way we viewed our target customers' problems. After repositioning the brand and our services, we had a focal point that made winning large enterprise deals a reality."
Chief Commercial Officer at 100TB
Book A Consultation
Understand What Your Customers Really Want
See how Stratomic can help your business uncover important, under-served customer needs and breakthrough routes to market with our Customer Compass framework.